This was one of those weeks during which all things were looking up for the Saskatoon real estate market. Sales grew. New listings exploded. Active listings inventory grew. Both long term price measures headed higher. Maybe it was the previaling temperatures, which were also nicely up.
Saskatoon real estate agents reported 88 firm residential sales to the multiple listing service® this week to once again set a new weekly sales record for the year, which in and of itself is nothing spectacular at this time of year when sales numbers should be consistently growing. This week's numbers beat the previous week by seven sales and were up when compared against the same week last year by nine.
The number of new listings for the week grew to a whopping 253 which is the highest number of new listings for any seven day period since the week of September 3, 2015. It's a hefty number, 53 higher than last week and up nearly two dozen compared to the same week a year earlier, one which had also produced an impressive listing spike.
The number of residential listings for sale on the Saskatoon MLS® also spiked higher as 77 Saskatoon homes where added to its numbers by the close of business Friday. It now sits at 1931 listings, up from 1854 a week earlier, and ahead of the 1884 properties available at this time last year. The greatest gains were seen in the condo category when oodles of listings that expired the previous week came rushing back on the market. Condo inventory grew by more than five percent this week from 705 to 745 to finish the week ahead of last year's levels by 20 homes. Single-family homes also moved up from 999 a week ago to 1023 today. That's also up from 987 a year earlier.
The median sale price for the week stayed stable at $310,000. The only number that edged lower this week was the average sale price that slipped just a few hundred dollars to $341,263. Meanwhile, the six-week average price grew by about four thousand dollars on a weekly basis to reach $345,593 which is actually up from a year earlier by around a thousand dollars. The four-week median price inched up a few thousand dollars from a week earlier to close the week at $317,000 taking an annual loss of seventeen thousand dollars.
Twelve Saskatoon home sellers saw offers that met their asking price this week, and two that went above, both by just $100. The remaining 75 sales were reported to have sold below the listed price netting those buyers an average discount of $10,475.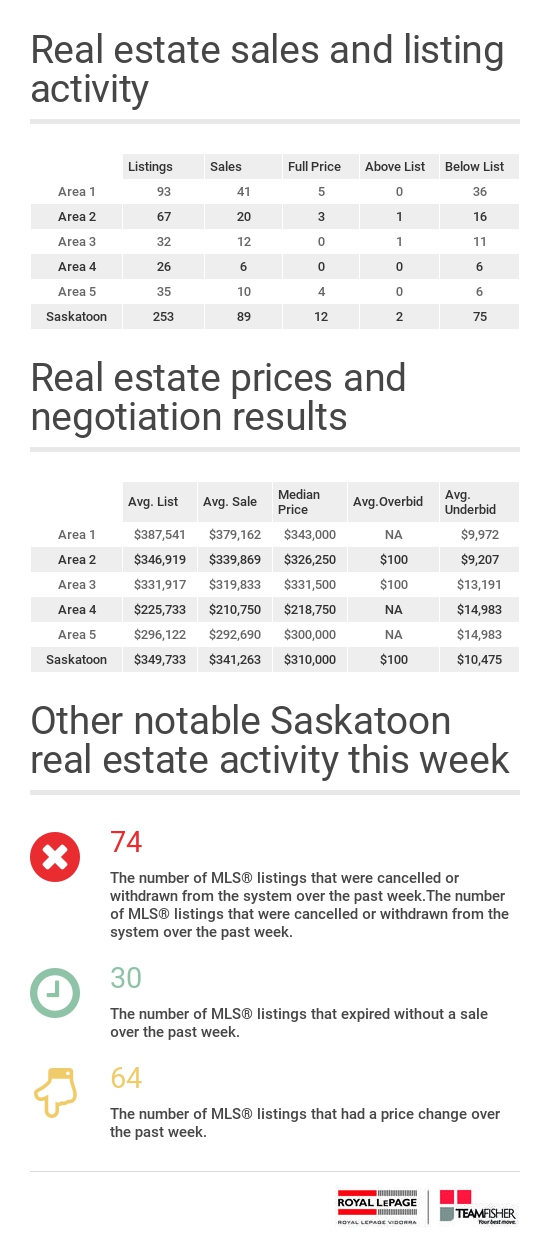 I'm always happy to answer your Saskatoon real estate questions. All of my contact info is here. Please feel free to call or email.
Norm Fisher
Royal LePage Vidorra