Saskatoon real estate sales took an upward turn from last week as local agents reported 52 firm residential deals to our MLS®. That's up eight from the previous week, but down by four sales when compared to the close of the same week last year. The number of new listings submitted to the multiple listing service® was up by two from last week to 157, which is about 30 fewer Saskatoon homes than were listed during the same period of 2016.
For the first time in over a month, the total inventory of residential listings for sale on the saskatoon MLS® fell lower on an annual basis. As of this morning, there were 1669 Saskatoon homes for sale, up 39 from the previous week, but down by 15 on a year-over-year basis. Single-family homes inventory sits at 860 today, down 50 units from a year earlier when buyers had 910 houses to choose from. There are 656 condominiums showing an active status on the MLS®, up from 616 a year ago.
The median sale price for the week edged higher to $329,500 while the weekly average price fell lower to $338,001. The six-week average price was roughly four thousand dollars lower than it was last week at $339,552 and down from where it was at this time last year by 15K. The four-week median price moved higher by four thousand dollars on the week reaching $324,000 for an annual loss of fourteen thousand dollars.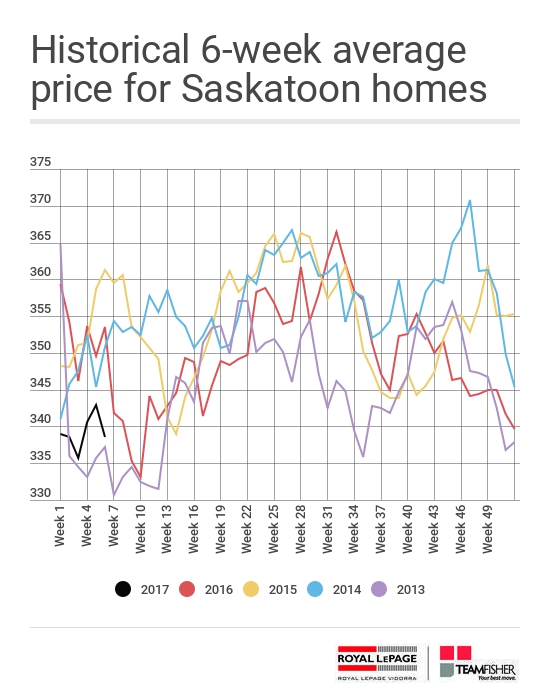 One seller found a buyer willing to up the ante in a bidding war and came out $10,400 above their asking price. Meanwhile, 48 buyers managed to grind a deal that netted them an average discount of $16,695. This unusually high number was skewed by a discount that amounted to a quarter of a million dollars on one area 2 sale. It knocked the average up by $5200 on each of the 48 below list price sales. Another two deals closed at the asking price.
I'm always happy to answer your Saskatoon real estate questions. All of my contact info is here. Please feel free to call or email.
Norm Fisher
Royal LePage Vidorra