Saskatoon real estate sales in the residential category slipped to their lowest point since mid-February this week. Local agents reported just 68 firm sales to the multiple listing service®, down six from last week, and lower annually by 31.
The new listing activity also continued to fall to settle at 150 for a weekly drop of 15. That's 21 fewer homes than hit the MLS® over the same period last year, and it's the smallest number of Saskatoon homes listed during any week since late February.
The inventory of active residential listings remained steady now for the fifth week in a row to create an unusual flatline on the listing chart which is normally slipping lower, fast, at this time of year. We finished the week with 1197 residential listings showing an active status, down just one from last week's close, and lower on a year-over-year basis by 147.
The number of single-family homes for sale in Saskatoon grew by nine this week to close the week at 730. This marks the first week this year in which inventory actually grew on an annual basis in this category, which has consistently experienced serious lows, now for the better part of two years. There are 30 more houses showing as active on the MLS today than there were a year ago.
Condo inventory increased by two this week to 405 and finish the week lower on a year-over-year basis by 131 units.
The number of Saskatoon homes to have sold over the most recent 30 days continued to slip lower, as it does at this time of the year, this week dropping to 329, down 41 units from last week. This pushed "months of inventory" (MOI) significantly higher, and closer to "balance" in all three categories that we track. We will almost certainly be in balance in all three categories within the next two weeks.
All residential - 1197 active listings / 329 sales = 3.6 month supply (up 0.4 months from last week).
Single-family homes - 730 listings / 205 sales = 3.6 month supply (up 0.4 months from last week).
Condos - 405 listings / 104 sales = 3.9 month supply. (up 0.6 months from last week).
The median sale price for the week slipped lower to $340,000, while the weekly average sale price of a Saskatoon home took a large jump to $394,260 due to the three highest-priced sales for the week that averaged more than $1.25 million dollars each.
The six-week average price of a Saskatoon home took its first drop in a few weeks' time as it slipped close to seven thousand dollars from last week to $372,195. That remains 17K higher than it was at the close of the same week last year.
Meanwhile, the four-week median price grew by a couple of hundred dollars to hit $344,750 which is up annually by just under fifteen thousand dollars.
In spite of softening demand and stable inventory, seven home sellers managed to close a deal for more money than they had been asking, but the average overbid tumbled by more than 60%. Those seven deals, on average, paid seller's a bonus of $4,814.
There was just one sale that reported a "full price" transaction, while 60 of the week's 68 transactions closed below the list price generating an average discount of $17,987.
It's worth pointing out that this "discount" was significantly skewed higher by the top-dollar sale which went $350K below the list price. If you remove that single sale from the mix, the average discount is about twelve thousand dollars, which is more typical of what we've been seeing in recent weeks.
Here is a breakdown of what the sales to listing price ratio looked like on this week's sales. Please note that this chart may show over-list price sales, even when I have reported the number as 0. Those sales are typically new properties that spent some period of time on the market, and most likely sold and included additional improvements that were not reflected in the original list price. For example, a new home listed at $450,000 sells at a price of $490,000 after 120 days on the market may have included a basement development that was not anticipated in the listing price. We report these to you as "at list price sales", which is likely too generous in some cases, but it's simply not practical to obtain the full details of each sale. A description of the geographic boundaries of areas 1 through 5 is here.

More weekly stats and numbers for those who love them.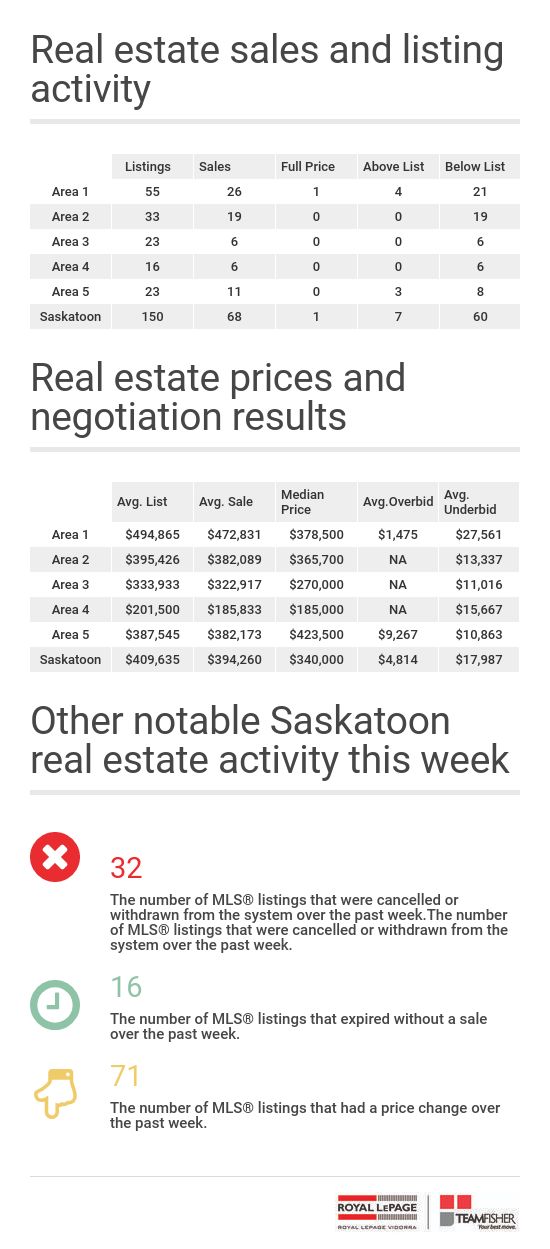 Follow me on Facebook and Instagram to receive updates on the Saskatoon real estate market and insights I've gained managing thousands of real estate transactions.
TeamFisher.com hosted over 520,000 user sessions last year and displayed more than 4.4 million pages to our visitors. If you have a Saskatoon area home you'd like to sell, we know how to get people looking at your home. Reach out to me directly to engage our team and learn about our processes.
I'm always happy to answer your Saskatoon real estate questions. Reach out by voice or text at 306-900-4161 or email me at norm at teamfisher.com
Norm Fisher
Royal LePage Vidorra