You may recall that last week was a short one, due to the observance of Remembrance Day and the consequential closing of the MLS®. Four day work weeks often result in soft sales that appear in the stats the following week. For that reason, we saw a bit of sales growth at a time of year when declines are most typical.
This period, sales grew to 76. That's the largest number of sales that we've seen in five weeks, up 19 from last week but lower annually, also by 19 units.
The new listing activity also grew, but more modestly. Saskatoon real estate agents added 121 residential properties to the multiple listing service® for a weekly increase of six and a year-over-year gain of 25.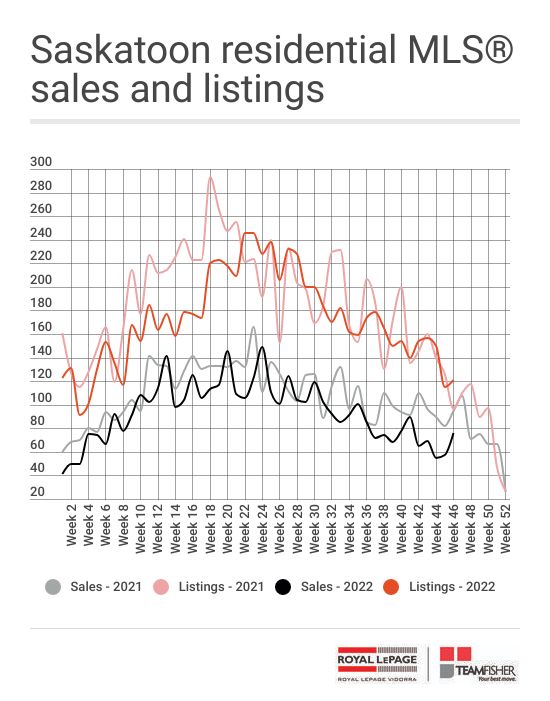 Our active listing inventory slipped below 1,100 this week, just barely, as we finish the week with 1,099 properties showing as "active" on the system. That's lower than the previous week's close by 16 and down just 26 from where it stood a year ago. The current trend indicates that inventory will be higher annually by next week and I expect it will stay that way through the winter months, which will be the first extended period of year-over-year gains in several years.
Today, buyers can find 682 single-family homes for sale. That's down 12 from last week and well up from the previous year when there were only 582 houses available for sale. Condo numbers are at 358 today, down two from a week earlier and down from 408 a year ago.
30-day sales continues to inch lower, this week slipping by six 273 to bring "months of inventory" (MOI) to to a balanced state in all three of the major categories we track. Here's what MOI looks like today.
All residential - 1099 active listings / 273 sales = 4.0 month supply (same as last week).
Single-family homes - 670 listings / 164 sales = 4.0 month supply (up 0.1 months from last week).
Condos - 358 listings / 83 sales = 4.3 month supply. (up 0.2 months from last week).
A solid sales week for homes above $500,000 pushed the median sale price higher to $335,500. The weekly average also grew and hit $359,898.
Still, the six-week average price continued on its downward slide that began eight weeks ago. This period, it comes in at $346,042. That's down just $900 from last week and lower annually by 26K.
The four-week median price saw it's third consecutive increase as it grew two thousand dollars from last week to reach $335,000. That's also lower annually by $26,000.
The number of homes to sell for more than the asking price slipped to just four with the average overbid being $2,275. Just two other listings attracted a full list price offer leaving 70 of the week's 76 sales selling below list price by an average of $13,613.
Here is a breakdown of what the sales-to-listing price ratio looked like on this week's sales. Please note that this chart may show over-list price sales, even when I have reported the number as 0. Those sales are typically new properties that spent some period of time on the market, and most likely sold and included additional improvements that were not reflected in the original list price. For example, a new home listed at $450,000 sells at a price of $490,000 after 120 days on the market may have included a basement development that was not anticipated in the listing price. We report these to you as "at list price sales", which is likely too generous in some cases, but it's simply not practical to obtain the full details of each sale. A description of the geographic boundaries of areas 1 through 5 is here.
More weekly stats and numbers for those who love them.
Follow me on Facebook and Instagram to receive updates on the Saskatoon real estate market and insights I've gained managing thousands of real estate transactions.
TeamFisher.com hosted over 520,000 user sessions last year and displayed more than 4.4 million pages to our visitors. If you have a Saskatoon area home you'd like to sell, we know how to get people looking at your home. Reach out to me directly to engage our team and learn about our processes.
I'm always happy to answer your Saskatoon real estate questions. Reach out by voice or text at 306-900-4161 or email me at norm at teamfisher.com
Norm Fisher
Royal LePage Vidorra