The number of firm Saskatoon real estate sales took a small dip this week as local agent reported just 39 residential trades, a decline of three from the previous week, and seven fewer than we saw during the same period of 2016. Meanwhile, the number of Saskatoon homes that were listed for sale inched down by one this week to 167 to finish well above last year's number of just 136.
Softer sales and more new listings meant higher inventory numbers. By this morning, the total number of residential properties for sale on the multiple listing service® reached 1618, up 48 from a week earlier, leaving us up over last year by seven homes. All of the gains can be attributed to the condominium category which saw its numbers grow from 575 a year ago to 626 today. The number of single-family homes for sale has slipped lower to 850 from 881 at this time last year.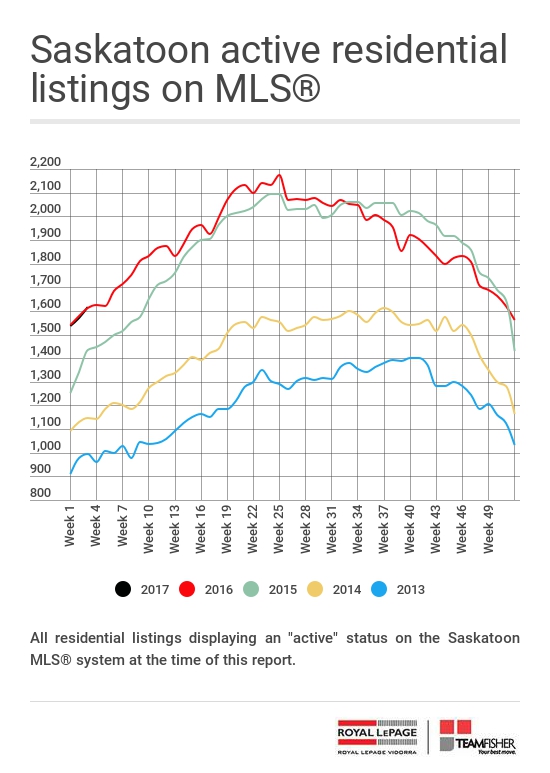 With some continued softness at the upper end of the Saskatoon real estate market (only one sale above the $500,000 mark this week), the average price of a local home slipped to $335,654 even as the weekly median price grew to $322,000. The longer term measures both moved lower as the six-week average price dropped by nearly three thousand dollars to $335,671 which is down about 10K from the close of the same week last year. The four-week median took a solid dive to just $316,000 to find its lowest point in well over a year. It finished the week down from a year ago by fifteen thousand and five hundred dollars.
Competitive bidding picked up a bit as three Saskatoon home sellers found a buyer willing to pay more than their asking price to deliver an average overbid of $2,733. On the other side of the negotiating table, 31 buyers ground themselves a discount that averaged $9,447. That's lower than last week by about six thousand dollars. The other five deals closed at the full asking price.
I'm always happy to answer your Saskatoon real estate questions. All of my contact info is here. Please feel free to call or email.
Norm Fisher
Royal LePage Vidorra