The Saskatoon real estate market recorded its biggest sales week this year as the number of firm residential trades hit 99, up by nine when compared to the previous week and beating sales for the same week last year by 17 homes. This was the third consecutive week in which sales were up on an annual basis. The puts us at 280 unit sales for May, up from 234 at the same time in May of 2016. Year-to-date, a total of 1327 Saskatoon homes have been sold, just shy of the 1336 units that had sold by May 19, 2016.
New listings continued to come on strong as Saskatoon real estate agents added 221 new listings to the multiple listing service®, up just three compared to the previous week, and down by three from the same period last year.
The number of local homes available to buyers through the MLS® system grew by 20 on both a weekly and an annual basis to reach 2135. This is the fourth week in a row that saw some moderation to the year-over-year increases in inventory levels. Today, we have 1169 single-family homes for sale within the city limits, up 21 from a year earlier. The number of condos for sale has grown to 808 for an annual increase of 18. On the whole, sales and listings metrics look fairly similar to last year.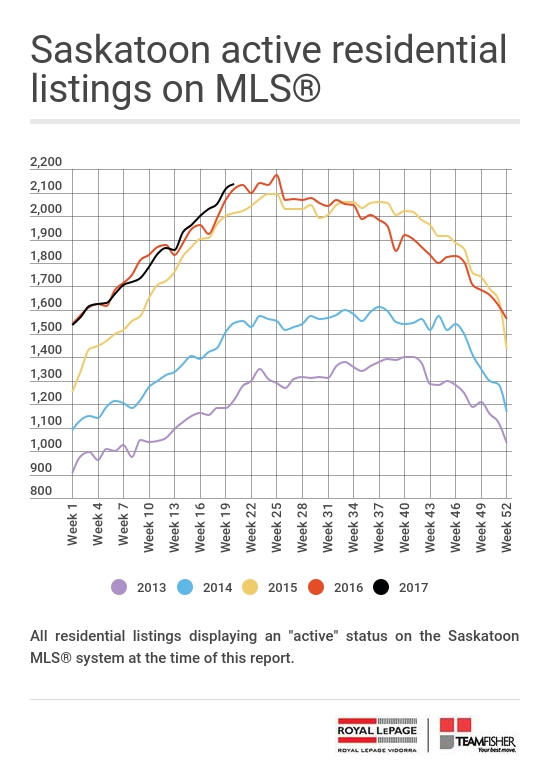 A more typical balance of sales at the upper and lower end of the Saskatoon real estate market brought the weekly median price down from some lofty levels. It slipped lower by 25K this week to $345,000. The weekly average price had stronger staying power and slipped just $500 from a week earlier to $365,010. The six-week average price continued to make gains for the fifth consecutive week. It reached $364,096 which is its highest level this year, and higher than its been during this particular week for the past five years (for the fourth consecutive week). It's higher than it was a year ago by sixteen thousand dollars. After climbing steadily for six consecutive weeks, the four-week median price fell lower by $4,500 from a week earlier to settle at $348,000 for an annual gain of twenty-one thousand dollars. Interestingly, our price measures are out of sync with MLS® Home Price Index data which shows Saskatoon single-family homes having dropped by 2.63% from a year ago. According to the same index, apartment prices are lower by 1.45%, and townhomes down 4.44%.
Overbid activity fell flat as just one seller found a buyer willing to bid up their price. They picked up an extra $2100 in closing their deal. Another six managed to complete a sale at their asking price. The remaining 92 sales required some give and take which netted this week's buyers an average discount of $11,764.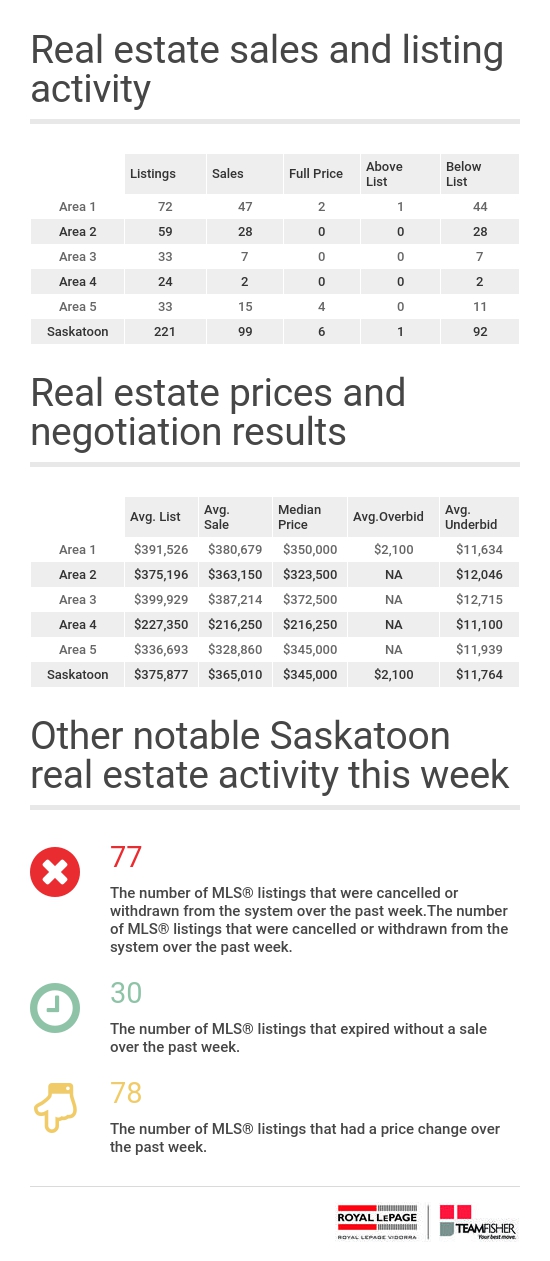 I'm always happy to answer your Saskatoon real estate questions. All of my contact info is here. Please feel free to call or email.
Norm Fisher
Royal LePage Vidorra