Coming off of a soft April which saw residential sales slip nearly 17 percent from the same month last year, the month of May is showing promising signs of making up some of that shortfall as sales have shown modest year-over-year gains for the second consecutive week. Saskatoon real estate agents reported 90 firm home sales this past week, down one from the week before, and four ahead of numbers posted during the same period last year.
After posting serious annual gains last week, the number of Saskatoon homes added to the multiple listing service® fell lower this week by 52 properties to 224. That's down 13 units from the same week of 2016.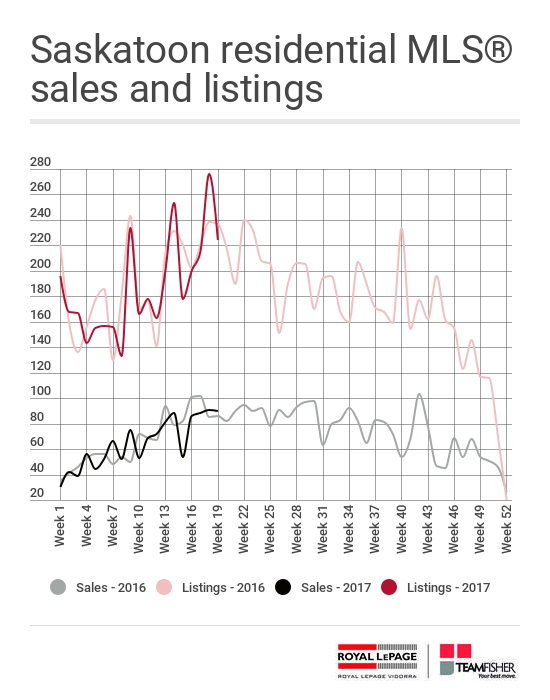 The inventory of Saskatoon homes for sale on the MLS® continued to move higher and added 63 units to its numbers by the close of business Friday. Today's final numbers come in at 2115, up by 46 from a year earlier. A closer look at the major housing categories shows that buyers have a selection of 1146 single-family homes, up from 1117 at the time last year. Condominium inventory sits at 808 for an annual increase of 31 units.
Average and median prices continue to move higher buoyed by very strong activity at the market's upper end. With more than a third of this week's sales surpassing the $400,000 mark, the weekly median price moved up twenty-six thousand dollars to $370,000 and reached its highest point this year. Two sales that contributed over $2 million to the week's dollar volume drove the weekly average price to $365,635 for a seven-day gain of nearly 15K. The six-week average price inched higher growing by about a thousand dollars from last week to settle at $359,834. That marks its fourth consecutive upward move to put it ahead of where its stood at this time last year by roughly 10K. Meanwhile, the four-week median price grew by twenty-six hundred dollars to $352,500. That's also a new high for the year. It's up twenty-three thousand dollars from a year earlier. It's worth noting that these gains are somewhat out of sync with the Canadian Real Estate Association's MLS® Home Price Index, which, at the close of April showed a 2.6 percent year-over-year decline in its "Composite Index".
There was some strong overbid activity with five lucky sellers bagging an offer above their asking price. Those overbids paid an average bonus of $6,480 but most of those wins went to one seller who picked up a $30,000 surprise after the dust settled. Another 75 sellers gave up some dough and agreed to a discount averaging $16,739 but one listing that went $300,000 below list skewed that number a fair bit, particularly in area 2 which recorded an average underbid of more than twenty-seven thousand dollars. The ten remaining sales were reported to have sold for asking price.
Have a great weekend!
I'm always happy to answer your Saskatoon real estate questions. All of my contact info is here. Please feel free to call or email.
Norm Fisher
Royal LePage Vidorra