Scott Irwin - Team Lead & Senior Partner
With 15 years of real estate experience and a love for negotiating, Scott is an indispensable member of the TeamFisher. His extensive background in food services familiarized Scott with the nuances that provide for an excellent customer service experience and a life-long client.
He likes to have fun but knows when it's time to be serious and get the job done. "I'm proud to be an agent who can be trusted to look after my clients best needs and give them the sense that they are working with a professional."
When he's not busy working with clients, you will likely find Scott talking or watching NFL Football or NBA Basketball. He loves to travel and be involved in the community.
Scott is active with "Big Brothers" in Saskatoon. He's founder and leader of the "Pay it Forward" business group which aims to cultivate leadership skills, growth, and contribution amongst Saskatoon business leaders.
Scott is registered with Royal LePage Saskatoon Real Estate.
Call or text Scott at 306-900-4576
---
Norm Fisher - Marketing, Technology & Systems Specialist
Licensed in 1993, Norm brings a wealth of experience to TeamFisher. He has worked in every imaginable capacity including sales agent, office manager, team leader, broker, and now, broker/owner.

Norm is known for his passion for technology and can most often be found exploring and experimenting with the next big thing in real estate marketing. He was the first Saskatoon real estate agent to promote a home online and has been an early adopter of new technologies ever since. "Everything about this business has changed over the past 20 years, and it will happen again in the next ten. An open mind and a curious attitude are all that's needed to continue to find new ways to serve our clients by delivering a faster, smoother, worry-free transaction," says Norm.

In his spare time, Norm enjoys Crossfit, cycling and music. He loves to sing and recently began to play the piano. He's a strong supporter of the Royal LePage Shelter Foundation and enjoys raising funds by joining a fun, fitness-related initiative like the Grouse Grind for Shelter. More recently, he trekked the Peruvian Andes to Machu Picchu. and walked the southern highlands of Iceland across mountains, sand, snow, ice, lava fields, and forest for seven days. Collectively those initiatives raised over a million dollars for Canadian women's shelters. Norm is the registered broker at Royal LePage Vidorra.
Call or text Norm at 306-900-4161
---
Callie Wisser - Client Service Specialist
A Saskatoon local her whole life, Callie has the advantage of knowing this city inside and out. She also has the advantage of a fresh perspective to real estate. With four years of experience and a love for helping people, she approaches every situation as though it were her own.
Her priority is making sure her clients are educated and understand everything that is going on. She personally has had, not one, but two home buying and selling experiences that did not go well. "Purchasing a home is for most, the biggest purchase of their lives. I want to make it as smooth and stress-free as possible!" Since her focus is on building a great relationship with her clients, she is able to help them find a home they are happy with, both practically and financially.
"The most humbling feeling is when they open the door on possession day to their new home and future."
When she's not working, you will find her at the lake with her family and friends. Skidooing, wakeboarding, quading. If it's outdoors and active, that's where she'll be. She believes that keeping active is good for the mind, body and soul.
Callie is registered with Royal LePage Saskatoon Real Estate.
Call or text Callie at 306-900-9061
---
Winfielda McKenzie - Client Service Specialist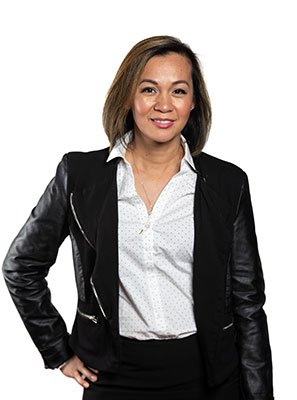 With 25 years of experience in the service industry, primarily in management, Winfielda is a force to be reckoned with. As a single mother with four children, she is no beginner when it comes to the transitions and stresses of life. Buying or selling a home can be emotional, so clients need a confidante who understands and will offer guidance to make sound decisions.
"That simple joy of a client is priceless." Her passion for connecting with people will make her the ideal real estate agent. Total customer satisfaction is always her goal, especially when someone is making one of the biggest investments in their life.
Justin (22), Jin (14), Jarvais (12) and Chloe (9) are her pride and joy. You can find her spending time with her children when she's not working. She also loves jogging by the river and relaxing with a Netflix movie. And if you're a fan of videoke, she's your gal.
Winfielda is registered with Royal LePage Saskatoon Real Estate.
Call or text Winfielda at 306-518-2615
---
Becky Laliberte - Office Manager (Unlicensed)
The team administrator, Becky, keeps everyone organized and on track. Real estate is one of the least predictable industries out there and it's essential to have someone that always knows what's where and who's what. Becky started working at Royal LePage Vidorra 5 years ago after filling a maternity position. The position stayed open and Becky remained with the team.
She stays on top of the day to day operation, keeping the action plans and tasks flows on schedule. When the agents are on schedule, clients have the best experience possible. "I hope I bring some organization for our agents as well as staying consistent and on the ball for all of our transactions that come past my desk."
She loves anything fitness related and is particularly obsessed with Crossfit and Spin. Together, she and Norm have four children. Norm's two, Justin and Pamela, and hers, Alex and Brielle. They also have a sweet little granddaughter Ainsley that they love to spoil. In the evenings, she likes to snuggle up with their wonderful rescue dog, Murph, and unwind.
Call or text Becky at 306-400-5462
---
When it's time to visit TeamFisher
Our office is located downtown Saskatoon, in the historic Wallstreet Common building at 310 Wall Street (S7K 1N7). Use the entrance on the south side of the building. There is free parking available on the west side of the building (Wall Street) and some free parking is designated portions of Pacific Avenue.