Welcome to the Dundonald Area of Saskatoon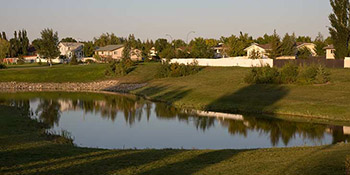 Dundonald, a residential subdivision located in the far northwest section of Saskatoon was primarily developed during the 1980's. The large park with a man-made lake is the central gathering spot in this area with all other development surrounding it.
There is just one small commercial development in the area and the closest major shopping centre would be Confederation Park Mall. The balance of the neighborhood is committed to residential development. Nearly seventy-five percent of the dwellings are detached houses and a selection of condominium apartments sit along the 33rd Street border.
Dundonald has two elementary schools, both located on Dundonald Park. Public school students attend Dundonald School, while students in the catholic system go to St. Peter School.
Area residents enjoy approximately twenty acres of green space across two public parks including Claude Petit Pocket Park and Dundonald Park, which is home to substantial baseball and soccer facilities. Other park amenities include a toboggan hill, walking paths, playgrounds, and a spray pool.
---
Homes for Sale in Dundonald, Saskatoon