Welcome to the Erindale Area of Saskatoon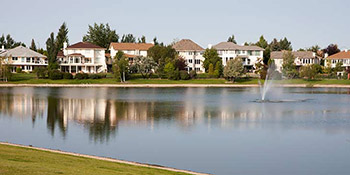 Erindale is definitely one of our favourites, especially if you're looking for a good quality family area. It's one of Saskatoon's larger residential subdivisions with a population approaching forty-five hundred people and the area has a significant number of children and young teenagers.
There are two elementary schools including Dr. John G. Egnatoff School and Father Robinson School, nearly central to the neighbourhood, and an easy walk from almost any location within Erindale. High school students have fairly easy access to two high schools located in neighbouring University Heights, Saint Joseph and Centennial Collegiate.
The Erindale neighbourhood boasts nearly thirty-five acres of public park space in its two major parks, Ernest Lindner Park and John Avant Park. Between them, residents have access to baseball and basketball facilities, soccer pitches, two outdoor rinks, a couple of good playgrounds, a wonderful spray park and lots of walking trails. The centrepiece of this area is the man-made lake at John Avant Park. Surrounded by upper-end luxury homes with walkout basements the park is beautifully landscaped with lush lawn spaces, maturing trees, and shrub beds.
Development in this area began to progress in the mid-1980's and continued through to its completion in the late 1990's. Home to residents that earn an income which far exceeds the average household income for Saskatoon, most of the homes built in this area are priced well above the average, with entry level homes starting roughly ten percent above the average selling price of a Saskatoon home.
---
Homes for Sale in Erindale, Saskatoon
---
Reviews of Arbor Creek
We have lived in Arbor Creek for five years. Absolutely love it! The beautiful walking trail, large park, soccer field, ball diamond, spray park and, of course, playground are just a few exciting things to mention. In the winter, we particularly enjoy the huge tobogganing hill right in the park. Arbor Creek is the best neighbourhood for families!
Jenny
---
We moved to Arbor Creek four years ago and it is the best real estate decision we have ever made. The area is full of parks, the best walking trails in Saskatoon and two of the city's best greenhouses are also located nearby. Are you a golfer? We even have a driving range and a miniature golf course with REAL grass greens. Everything you need is very close by, including shopping malls and grocery stores. In my opinion, there are two very much sought after area's in Saskatoon, Arbor Creek, and Briarwood, with the latter being more expensive to live in. Compare condo numbers in both area's – Arbor Creek has fewer condos and more single home dwellings. Arbor Creek is THE area to live in!
Gary
---