Welcome to the Lakeridge Area of Saskatoon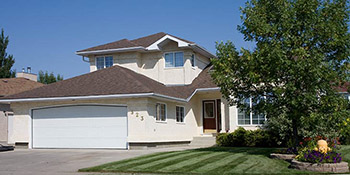 Lakeridge is located near the far south-east edge of Saskatoon, just south of Wildwood and to the east of Lakeview. The area is somewhat unique in that it's one of just a few Saskatoon neighbourhoods in which the residential development is entirely single-family detached homes and the homes are almost completely owner occupied. The lack of any multi-family developments within the area contributes to a strong average household income, pegged at nearly $120,000 in the 2006 census, more than double that earned by the average household across the entire city.
Occasionally, entry-level homes can be found priced below the city's average selling price but most typically these would be small with few features, and often in busy locations. The selection and options begin to grow for budgets that are ten to twenty percent above the Saskatoon average. Prices can often range as high as twice the local average.
Lakeridge is home to two excellent elementary schools, both centrally located in the area making them a pretty easy walk from anywhere in the neighbourhood. Public school students attend Lakeridge School, while children in the catholic school system attend Saint Luke School.
The area has just one park that offers nearly nineteen acres of space and connects the two schools. Lakeridge residents have access to baseball, basketball, tennis and soccer facilities. Additionally, there are two outdoor rinks, numerous creative playgrounds, a spray park and lots of walking trails through the well-landscaped park area.
---
Homes for Sale in Lakeridge, Saskatoon
---
Reviews of Lakeridge
When we began our search for our second home, we were looking for the ideal family neighborhood as we were expecting our first boy. We looked extensively at all areas of the city to find the perfect blend of schools, parks, walking paths, access to downtown and shopping. Four years, and another boy later, we are absolutely convinced that Lakeridge has exceeded our expectations. There is no lack of park space within the neighborhood, Crocus Park boasts over 19 acres, and if you like to be active and go for relaxing walks or bike rides with the family, Lakeridge is centrally located to the adjoining beautiful neighborhoods of Lakeview, Briarwood, Wildwood, and now Rosewood. Each of these adjoining neighborhoods have wonderful park spaces of their own, many of which are connected to Lakeridge by network of pathways. Lakeridge is also home to two elementary schools and a fabulous spray park – we practically live there during the summer months as the boys love it! But what really sets Lakeridge apart from other neighborhoods is the sense of community. The wide streets, established trees throughout the neighborhood, and the fact that Lakeridge is comprised entirely of single-family detached homes is just an added bonus. In Lakeridge, we had truly found our forever home!
Brad
---
Our family moved to Lakeridge in the summer of 1998. If felt like home instantly. Our girls were 8 and 6 and enjoyed having the Spray Park in walking distance. They attended St. Luke School and loved it. The teachers are wonderful and kids are taught to respect one another. When our girls were younger we took advantage of our community association activities. They were in dance, tennis, softball, soccer and basketball. The people that we have met in our neighborhood have all been very friendly and we have developed some great friendships. Our girls now attend Holy Cross High School, but we have no desire to move out of Lakeridge. This community is home for us. With downtown minutes away on Circle Drive and shopping popping up near us why would we leave?
Colette