Welcome to the Mount Royal Area of Saskatoon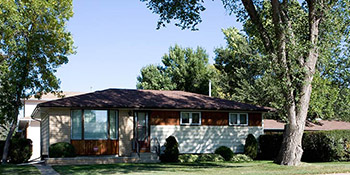 Mount Royal is primarily a residential neighbourhood that is situated almost dead centre of Saskatoon's west end. Most of the development here occurred between the early 1950's and the late 1960's with approximately sixty percent of the housing stock being single-family detached homes, about twenty percent apartments and twenty percent two-unit homes.
Mount Royal has one major commercial space, Westgate Plaza that is situated on its south border. 22nd Street also provides easy access for a short drive to Confederation Park Mall.
Mount Royal is home to four schools. The catholic school system has two elementary schools, St. Gerard and St. Goretti. The public school system has one elementary school, Howard Coad, and one high school, Mount Royal Collegiate that also houses the Saskatoon Trades and Skills Centre.
Residents of this area enjoy nearly twenty-eight acres of green space in two large parks. Available recreational amenities include baseball diamonds, basketball facilities, playgrounds, walking paths, an outdoor rink, and a paddling pool.
---
Homes for Sale in Mount Royal, Saskatoon
---
Reviews of Mount Royal
I live in the Mount Royal area and have lived in the area for over 18 years. I live on the far end of Mount Royal by Ottawa Avenue. Where we reside in Mount Royal is very quiet and I feel very safe walking around my neighborhood (which I do every day, sometimes very early in the morning). There are a lot of green space in the area. Yards are very large and the area has not been taken over by developers building duplexes and cookie-cutter housing. In my view, it is one of the most underrated areas of the City of Saskatoon. You can get pretty much anywhere in Saskatoon from where I reside in Mount Royal in less than 15 minutes. I work downtown and it is a less than 10-minute drive to work on a busy morning. We are close to the Shaw Centre, Harry Bailey, and many other great facilities. It would be difficult to convince me to move anywhere else in the City (and I can afford to live anywhere in the City I want) because of all of these things. The income distribution charts on the neighborhood are quite misleading as 22nd Street (where there are some low-income apartments) is considered part of the Mount Royal area as are the low-income housing homes on Avenue T North and the senior's residences on Avenue P.
Tammi
---
The Mount Royal neighbourhood is a product of Saskatoon's post-WWII housing boom. In fact, more than three-quarters of the homes here were built between 1946 and 1970. Today several excellent parks, an outdoor rink, and a seasonal schedule of fun programs enhance quality of life for residents. The Mount Royal Community Association plays an important role in maintaining the parks and outdoor rink. It also coordinates sports for children/youth and delivers social, recreational, and leisure programs. Volunteers are always welcome to lend a hand.
Kathy
---