Welcome to the North Park Area of Saskatoon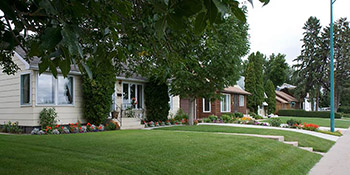 Welcome to North Park in Saskatoon. In our opinion, North Park is one of those small affordable little gems with a lot to offer at a pretty reasonable price.
Let's start with the location, which is absolutely superb. It's situated just north of City Park, and south of Richmond Heights with Warman Road serving as its western border and the South Saskatchewan River as its eastern boundary. From this location, you're just three kilometres from the Midtown Plaza and the Mall at Lawson Heights. The area's proximity to the river makes Meewasin Park a natural for those who like to bike, jog, or walk. You're literally moments away from near endless lengths of paved trails. Take a walk to the northeastern tip of neighbouring City Park and enjoy a stroll across the old CPR Bridge or the Riverwalk Promenade. The Realty Executives Boardwalk provides access to Saskatoon's weir where feeding pelicans can often be seen up close.
The area does seem somewhat short on park space with just three public parks, each under an acre in size, but it does share the large G.D. Archibald Memorial Park with its neighbour, Richmond Heights, and Meewasin Park is a natural extension of green space and outdoor amenities.
Development in this area began after World War II and about two-thirds of the homes in the neighbourhood were constructed prior to 1960. In recent years, North Park has been a target for builders who have purchased old homes on good lots to build new modern houses, so dozens of homes have been constructed in recent years, a good sign that renewal is well underway.
Due to its age, and the relatively smaller size of homes that were built during these earlier times, single-family detached homes are largely available at a price that is below the average for Saskatoon. Homes priced more than thirty percent above the Saskatoon average are occasionally available but rarely found.
Children living in this area attend either North Park Wilson School or École Saint Paul. The University of Saskatchewan campus is a five to seven-minute drive.
---
Homes for Sale in North Park, Saskatoon