Welcome to the Richmond Heights Area of Saskatoon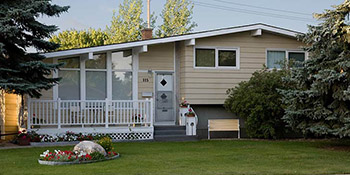 With a population of fewer than 1000 residents, Richmond Heights is one of Saskatoon's smallest residential subdivisions. Its size adds to the charm of the area, which boasts a mature landscape with tree-lined streets. Its southern border is shared with North Park, an area with which this neighbourhood also shares some amenities and civic services like schools and a community association. River Heights is its neighbour to the north. Warman road defines its western boundary and the South Saskatchewan River flows along its eastern edge.
Despite its relatively small size Richmond Heights is home to four public parks, three of which are named after G.D. Archibald. Between them, you'll find a couple of basic playgrounds, soccer pitches, baseball and basketball facilities, a paddling pool, an indoor ice rink, ski trails and one of Saskatoon's very best tobogganing hills. The area's proximity to the river makes Meewasin Park a natural for those who like to bike, jog, or walk. You're literally moments away from near endless lengths of paved trails. Take a walk to the south and enjoy a stroll across the old CPR Bridge or the Riverwalk Promenade. The Realty Executives Boardwalk provides access to Saskatoon's river weir where feeding pelicans can often be seen up close.
Good shopping opportunities are plentiful with Midtown Plaza just four kilometres away. The Mall at Lawson Heights is just over two kilometres north and Preston Crossing is an easy and quick drive.
The housing stock is generally more affordable than it is as you move further north. The homes tend to be smaller and more basic in design, typical of what you find in areas which got their start in the early 1970's. While homes don't often turn over in this community, single-family detached houses can occasionally be found priced around the average selling price of a Saskatoon home, but expect to pay twenty to thirty percent more than that for most homes that will be offered here.
Children living in the Richmond Heights area attend either North Park Wilson School or École Saint Paul in neighbouring North Park. The University of Saskatchewan campus is a five to seven-minute drive.
---
Homes for Sale in Richmond Heights, Saskatoon