Welcome to Saskatoon, Saskatchewan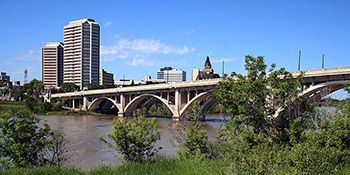 Situated on the beautiful South Saskatchewan River, Saskatoon is Saskatchewan's largest city with a population estimated to be just over 300,000 in the Saskatoon Census Metropolitan area.
Saskatoon is one of Canada's fastest growing cities, with its youngest population. It's a growing and vibrant community with a multitude of shops, services, restaurants, and recreational amenities, not to mention an ever expanding number of pubs and clubs for those who enjoy the nightlife.
Saskatoon's economy is as strong as it is diverse. You'll find opportunities in agriculture, oil, potash, food processing, biotechnology, information technology, lifestyle and environmental sciences, and more. A spirit of entrepreneurship has kept our small business community healthy and growing.
---