Welcome to the Willows Golf Community of Saskatoon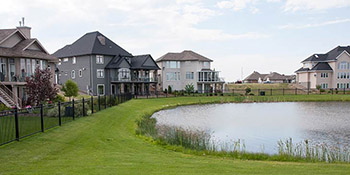 Located on Saskatoon's east side, on the southern border, The Willows Golf Community has been a residential area since construction began in 2004, around the existing 36 hole golf course. Housing consists of both single-family homes and apartments, but the Willows is unique from any other Saskatoon area in that every home within the neighbourhood is actually a condominium. Residents of The Willows are some of Saskatoon's most affluent and that wealth is reflected in the housing stock where homes priced below the average selling price in Saskatoon are nearly non-existent, while homes priced at twice (or even triple) the average are common.
The most recent census indicates that there are very few children living at the Willows, therefore there are no schools in the neighbourhood. Elementary students can attend school in either the public or Catholic school systems in nearby Avalon. For those in high school Aden Bowman in Queen Elizabeth is the nearest public high school, or Holy Cross in the Nutana Suburban Centre if the Catholic school system is preferred.
Shopping and dining are available in nearby Stonebridge. The Lakewood Civic Centre is only a few minutes away and includes an indoor swimming pool and a public library. And of course, while living in The Willows you'll have a golf course in your back yard.
---
Homes for Sale in The Willows Golf Community, Saskatoon